Trainers | Advisors | Operators
Church Security Teams
Actively Defending Religous Groups And Faith-Based Organizations
Those who built on the wall, and those who carried burdens, loaded themselves so that with one hand they worked at construction, and with the other held a weapon.
NEHEMIAH 4:17
Church Resource Package
How to Develop the Church Security Team. 480 Pages. Videos and PDF documents via thumbdrive.
6-Hour Online Church Seminar
How to Develop a Church Security Team. Includes the Comprehensive Manual and thumb drive.
Tier 4 Firearms Training
20-hour combative handgun training for church security teams. Comprehensive Manual included.
Tier 3 Tactical Training
40-hour combative  tactical training for church security teams. Comprehensive Manual included.
Distributed Security trains members of religious groups and faith-based organizations to actively defend against violent attack. Our trainers, advisors, and operators all possess military, agency, and/or law enforcement backgrounds.
Religious groups and faith-based organizations face a challenging set of security threats. Houses of worship must secure physical facilities and defend congregants from violent threat.
Among a myriad of service providers offering passive "security" measures, consultation, and programs, DSI is alone in providing service offerings that offer a true, Active Defense training for your organization.
Combining DSI's curriculum, training staff, and experience administering high-level security training, your congregation gains peace of mind and returns your organizational focus to ministering to your flock.
Additionally, Distributed Security can help facilitate relationships with local enterprise and agency organizations that might subsidize training programs for houses of worship. Call to discuss the specific needs of your organization to learn more about available programs.
BUY THE MANUAL – ATTEND THE ONLINE SEMINAR
DEVELOPING THE CHURCH SECURITY TEAM
Reference Manual – Developing The Church Security Team has been compiled for houses of worship to develop church security teams capable of actively defending against lethal threats of violence. Active defense is the ability to stop a violent threat, minimizing casualties and damage, and securing the scene prior to the arrival of law enforcement. This is accomplished by training select staff and congrgants who are thoroughly vetted and willing to form an armed security force.
TO BE CLEAR, THIS IS NOT A DO IT YOURSELF MANUAL. THE RESOURCES FOUND INSIDE THIS MANUAL ARE DESIGNED TO BE USED BY EXPERIENCED PROFESSIONALS – LAW ENFORCEMENT AND/OR MILITARY VETERANS – WHO CAN LEAD THE DEVELOPMENT AND DEPLOYMENT OF YOUR TEAM. DEFENSIVE SERVICES OFFERS TRAINING COURSES AND SEMINARS TO AID AND INFORM THAT IMPLEMENTATION.
Included with this manual is a thumb drive with several digital files containing videos along with documents and a customizable, interactive, Team Training Plan that you can print for the use of your team. DSI's Team Training Plan should be the cornerstone of any Security Team implementation. The tiles below outline the topics covered in the manual and digital materials included on the thumb drive.
HANDGUN/RIFLE
Definition of Sides
Magazine Indexing
Wearing Equipment
Stance/Grip
Draw/Re-Holster
Chamber/Mag
Positions/Holster
Contact Drills
Load
Unload
Empty Gun
Immediate Action
Speed Reload
Remedial Action
Tactical Reload
INDIVIDUAL TACTICS
Movement.
Spalling.
Cover/Concealment
Close Quarters Combat (CQC)
CQC – Interior
Terminal Angle
"T" Intersection
Room Clearing
Room Characteristics
Doors
Fatal Funnel
Dynamic Entry
Stairs
Closing
TEAM TACTICS
Combat Orders
Command Control
Team Education
Immediate Action Drills
Initiative Based Tactics
Mission Essential Task List
Pre-Combat Checks/Inspections
Recruiting the Team
Rehearsal
Team Fundamemtals
Training the Team
Verbal Communications
Wargaming and TDG
AAR – Case Study
COMMAND SCHOOL
Introduction to Security Analysis
Area Study
Site Survey
Asset Evaluation
Threat Assessment
The Private Security Force
Communications
Task Catalog & METL
Post-Incident
Sustainable Security
Plans and Procedures
Command and Control
Decision Making and Problem Solving in Crisis
Tactical Decision Games
War Gaming
TRAINING PLAN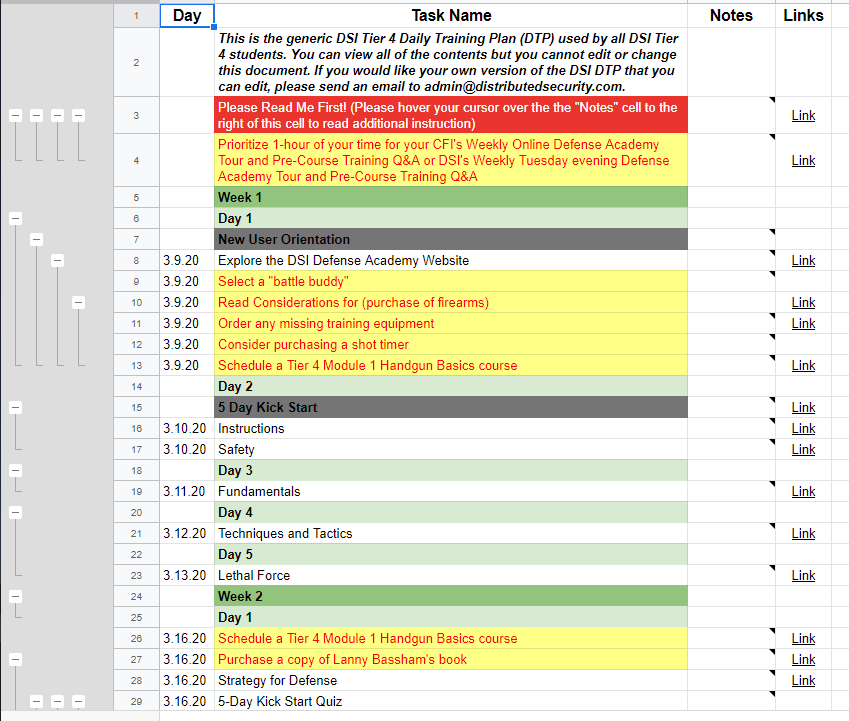 Included on the thumb drive is an Excel spreadsheet with an interactive 13-week training plan for your church security team. The plan incorporates range training (with a qualified instructor), dry practice drills, range drills, along with reading and instructional assignments pulled from the manual. The manual is included in PDF format on the thumb drive for sharing with team members.
$89 MANUAL ONLY
Purchase the 489-page manual and the thumb drive for $89. You get the interactive training plan, drill videos, range and dry-practice guides, plus all of the content described above – handgun/rifle drill narratives and photos, individual tactics, team tactics plus command school. Click below to order.
$129 ONLINE SEMINAR + MANUAL
Attend the 6-hour online seminar for church security groups. Attendance fee includes the reference manual and thumb drive. Our seminars are run the last Friday of each month. Click below for upcoming dates and to register. 
BOOK A TRAINING PROGRAM FOR YOUR CHURCH SECURITY TEAM
TIER 4 TRAINING – HANDGUN FUNDAMENTALS
TRAINS CHURCH SECURITY TEAM MEMBERS TO SAFELY AND EFFECTIVELY CARRY CONCEALED WEAPONS ON SITE.
Program includes 16 hours of dedicated range training plus access to an interactive training plan and on-line courses and content. Introductory tactical medicine skills are integrated into the on-range and on-line training. This program requires a minimum of 6 team members per class and is delivered over a 30 day period. Qualifying students receive the DSI "Tier 4 Defender" certification. Range facility surcharge may apply based upon location of client.
TIER 3 – INDIVIDUAL OPERATORS.
TRAINS A CHURCH SECURITY TEAM TO DEFEND AGAINST A VIOLENT ATTACK.
This program integrates 16 hours of dedicated range training with 24 hours of reality based training and includes tactical medical training. Training focuses on the use of concealment and cover, working hallways, stairs and doorways, crossing thresholds and clearing rooms. There is a minimum of 6 team members per class, and this program is delivered over a 3 month period. Qualifying students receive the DSI "Tier 3 Operator" certifcation. Range facility surcharge may apply based upon location of client.
CALL 1.877-459-0951 TO DISCUSS A TRAINING PROGRAM FOR YOUR CHURCH SECURITY TEAM.
Defensive Services is the non-profit arm of Distributed Security, Inc. and offers services and content under license from Distributed Security. Below are important links and information for reaching out directly to Distributed Security, Inc.
BRIEFINGS
DSI is at the forefront of creating security solutions for enterprise and community moving from defenseless to defended.
Email us to set up a one hour briefing with our team and yours.